Food and Beverage Office Coordinator
0 - 50 Arası Aday Başvurdu
İş Tanımı



As a Food and Beverage Office Coordinator, you are responsible for working in all areas of Food and Beverage as needed to deliver an excellent Guest and Member experience. A Food and Beverage Assistant will also be required to take and deliver customer orders and work to achieve departmental targets. Specifically, you will be responsible for performing the following tasks to the highest standards

Assist and coordinate activities of the restaurant, lobby bar, room service, minibar and banqueting events. To be follow up the operation in a correct way. To achieve the F&B targets and coordinating the healthy communication between all F&B outlets, supervisors and team members. Ensure the hotel guests requirements and satisfaction about F&B activities.

· Ensure all guests are welcomed in a polite and friendly manner and receive utmost attention at all times.

· Ensure that the hotel guests receive an efficient, friendly, consistent and personalised service from all team members with F&B Manager.

· Agreeing and implementing actions to make improvements to customer service with HRD and F&B.

· Handling, following up and reconfirming guest about any single complaint regarding F&B operations.

· Positively dealing with and learning from customer complaints and comments.

· Dealing with complaints and giving information to F&B Operations Manager and Assist. F&B Opr. Manager.

· Making sure all customer requests and queries are responded to promptly and effectively.Sending VIP amenities to the guest rooms.

· Helping to F&B Operations Manager for creating new menu types.

· Ordering menu covers.

· Assisting the responsible person on banqueting operations and events.

· Handling the restaurant reservations in a kind way and coordinating with the restaurant supervisor.

· Translating menus.

· Helping to F&B Ops.Manager and Ass. F&B Ops.Manager for the effective operation, operational issues and needs.

· Preparing reports for every function after the events for the details.

· Helping to F&B Ops.Manager or Assis. F&B Ops.Manager in special activities and festivals.

· Following the operations according to events.

· To support for creating new promotions he/ she will coordinate the communication between the outlets.

· Implementing sales promotions with Assis. F&B Opr. Manager.

· Maximising revenue chance and developing new challenges, promotions and activities with F&B Manager.

· Ensure all areas of the outlets are regularly checked and maintained day by day with required standards to ensure an effective operation.

· Following up the outside catering operations and informing the operations Assistant on missing parts.

· Preparing the monthly reports for minibar consumption and executive floor beverage consumption.

· Preparing Probench, Manning, Overtimes and Food Cost reports.

· Preparing SALT scores day by day.

· Cost/following and being sure about the beverage per stocks, being in relation with F&B outlets.

· Preparing reports for every banqueting function after the events for the details of beverage consumption amount.

· Assisting the department to achieve the targeted cost.

· Analysing financial information to assist decision making.

· Controlling costs (especially for banqueting events).

· Communicating relevant financial information to the team.

· Involving the shift / team shift for the relation for guest and relation for personnel.

· Communicate performance standards and expectations in a way that motivates team members in the areas of accountability to take action.

· Effectively manage the performance of team members.

· Involving the meetings and communication and follow up the details subject related to operational problems and suggest.

· Ensure that new team members have all relevant information before commencing employment in the department.

· Helping to F&B Ops.Manager for prepare the rotation to the team for effective service.

· Develop and implement department training plans to meet business needs.

· Preparing weekly duty rosters to match the requirements of anticipating volumes on business.

· Ensure Brand Standards are consistently delivered throughout the department.

· Following up the updates on SALT and QA and training the personnel on these subjects.

· Following up the changing standards and protecting the service and productivity standards.

· Have detailed knowledge of department Brand Standards and implement the checklist.

· Follow-up the new standards and give an information to team members about that.

· Implement and follow through improvements identified.

· Helping to develop and maintain deparmental standards, with special regards to the Hilton Brand standards.



Aranan Nitelikler
What are we looking for?

A Food and Beverage Office Coordinator is always working on behalf of our Guests and working with other Team Members. To successfully fill this role, you should maintain the attitude, behaviours, skills, and values that follow:

*University degree,
*Minimum 1 year of experience in an international hotel,in a similar position,
*Good command of English (2.language is asset)
*Can adapt flexible working hours,
* Positive attitude,
* Good communication skills,
*Commitment to delivering high levels of customer service,
*Excellent grooming standards,
*Flexibility to respond to a range of different work situations,
*Ability to work on your own or in teams,
*It would be advantageous in this position for you to demonstrate the following capabilities and distinctions:


Previous Food and Beverage and/or industry experience
Knowledge of Food Hygiene Regulations
Özet Bilgiler
23.11.2016

23.11.2016

23.12.2016
Benzer ilanlar için e-posta gönder.

Hilton Izmir
İş Bulma Taktikleri
Özgeçmişinizi öne çıkartacak 4 öneri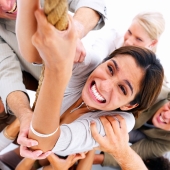 İş aramada başarılı olmak için sizinle aynı pozisyona başvuranlara göre öne çıkmanız gerekli. Bu aslında o kadar zor değil. İşte size bir adım önde olmanızı sağlayacak 4 öneri.