Bu ilan yayından kaldırılmıştır.
Temporary Entry Clearance Officer
0 - 50 Arası Aday Başvurdu
Job Description
The British Government is an inclusive and diversity-friendly employer. We value difference, promote equality and challenge discrimination, enhancing our organisational capability. We welcome and encourage applications from people of all backgrounds. We do not discriminate on the basis of disability, race, colour, ethnicity, gender, religion, sexual orientation, age, veteran status or other category protected by law. We promote family-friendly flexible working opportunities, where operational and security needs allow.


The British Consulate General in Istanbul is part of a world-wide network representing British political, economic and consular interests overseas as is now looking to hire
up to four
Temporary Entry Clearance Officers
for its UK Visas and Immigration department.


UK Visas and Immigration is the overseas arm of the UK's immigration control. Istanbul is one of the busiest Visa Sections in the world and processes applications made in Turkey, Central Asia, South Caucasus, Tel Aviv and Cyprus. Our people are committed to providing a first class service, and are expected to be flexible, and to make fair and defensible decisions on visa applications quickly, balancing the need for a high level of customer service with the requirement to maintain the integrity of the immigration control.

Main Duties / Responsibilities:
Assessing a range of visa applications. Making quick and pragmatic decisions to issue and refuse visas in accordance with the Immigration Rules, and within agreed timescales;
Dealing with correspondence and other enquiries from applicants, sponsors and members of the public. Preparing well-presented and accurate replies, written in plain English, within target times.
Required Skills
The ideal candidate should be:
A good communicator with excellent spoken and written English;
Computer literate with accurate typing skills of at least 25 words per minute;
Able to remain customer focused, polite and courteous under pressure;
Able to work quickly and reliably with little supervision and meet challenging targets;
Capable of making quick decisions in accordance with set rules and able to show that these decisions are fair and just;
An excellent team player; this is an all for one, and one for all environment;
Flexible and positive about working in a forward thinking, modern and motivated department, which is working at the forefront of visa work. We are committed to improving standards and procedures - and we are looking for like-minded employees;
An excellent representative of the UK Visa and Immigration, the British Consulate General and of the UK Government.
Knowledgeable of UK immigration legislation (an advantage but not essential as full training will be given).
Full training will be provided to successful candidates. All travel and accommodation during this time will be paid for and facilitated by the visa section. Previous visa officer experience would be an advantage. If successful, course attendance will not be required if:
You have had previous Assistant or full ECO experience within the last three years;
You have attended and passed the course in the UK within the last three years.
Required competencies
Changing and Improving, Making Effective Decisions, Leading and Communicating, Collaborating and Partnering, Delivering at Pace
Application deadline

:
13 December 2016
For further details on this vacancy and to apply ,please click on the followıng link:
https://fco.tal.net/vx/appcentre-ext/candidate/post/2283/en-GB
Grade
:
B3 (L)
Type of Position
:
Full-time, Temporary
Working hours per week
:
36.25
Location (City)
:
Istanbul
N
umber of vacancies
:
4
Starting yearly salary (TRY)
:
84,713.60 TL gross
Start Date
:
1 April 2017
End Date
3
1 August 2017
This is a full-time five-month temporary contract for 5 working days (36.25 hours net) per week.
The annual salary for this position is 84,713.60 TL gross, B3 level. Please note that staff members are responsible for paying any income tax required by local law.
All applicants should have permission to live in Turkey. Applicants must hold a passport valid for at least 12 months for any of the following: UK, USA, Canada, Australia, New Zealand or any EU country (note- Non British Passport Holders must also have Turkish Nationality).
The successful candidates will be subject to professional background check, security clearance and a probation period of 2 months. They will be also required to attend a 2 week training course in London/Abu Dhabi or elsewhere. During the course the candidate must pass an examination to enable them to take up the appointment, failure to pass will result in the offer of a job being withdrawn.
Staff recruited locally by the British Consulate General in Istanbul are subject to Terms and Conditions of Service according to local Turkish employment law.
British Diplomatic Missions are equal opportunities employers, dedicated to inclusivity, a diverse workforce and valuing difference. We are committed to developing a learning organisation that enhances business performance, maximises our staff's potential and encourages staff innovation and development.
Summary Info
01.12.2016

01.12.2016

13.12.2016

British Embassy Turkey
Our mission is to develop and improve relationships that will make the UK and Turkey more secure and prosperous. Our priorities include cooperation in international policy; trade and investment; defence; energy; illegal immigration; counter-terrorism; and international crime.
Our network of posts in Turkey, including the British Embassy in Ankara and our Consulate General in Istanbul, develop and maintain relations between the UK and Turkey. We work on a wide range of issues including Turkey's bid to join the European Union, the economy, energy policy and international security.
We have a dedicated team working on projects to improve Turkey's prospects of joining the EU. We are improving ties between British and Turkish companies to ensure that we meet the target set by the British prime minister and his Turkish counterpart in 2010 to double bilateral trade by 2015.
We have a large consular network with posts in Antalya, Bodrum, Marmaris, Izmir and Fethiye. These offices deal with a wide range of issues in a country that receives around 2.5 million British visitors a year and where up to 40,000 Britons live for all or part of the year.
In addition to staff posted to Turkey from the United Kingdom, the Embassy employs staff locally, most of whom are Turkish citizens. We seek to recruit and retain talented and high performing staff, who support and develop each other and are committed to high standards of service.
The Embassy values diverse talents, skills and background, drawing on the rich cultural and ethnic diversity of the UK and Turkey. As an equal opportunities employer, the Embassy welcomes applications from suitably qualified individuals, regardless of race, colour, gender, disability, sexual orientation, religion, belief and age.
The Embassy HR Office accepts applications only for specific vacancy announcements. We will not accept applications that are not associated with a specific vacancy announcement.
Firmanın Tüm İş İlanları
Firmanın Diğer İlanları
British Consulate General İstanbul
Son 1 Ay
The British Government is an inclusive and diversity-friendl...
FİRMANIN TÜM DİĞER İLANLARI
İş Bulma Taktikleri
Özgeçmişinizi öne çıkartacak 4 öneri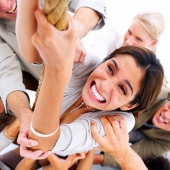 İş aramada başarılı olmak için sizinle aynı pozisyona başvuranlara göre öne çıkmanız gerekli. Bu aslında o kadar zor değil. İşte size bir adım önde olmanızı sağlayacak 4 öneri.