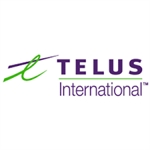 TELUS INTERNATIONAL EUROPE
Our unique approach
We enable customer experience innovation through spirited teamwork, agile thinking, and a caring culture that puts customers first. For us, it starts with the Culture Value Chain – our unique formula for equating highly engaged frontline team members to our clients' top line growth
The Culture Value Chain
It's a proven formula. A strong corporate culture leads to high employee engagement and in turn, lower attrition. This means more tenured, engaged agents serving customers creating higher NPS, CSAT, or L2R. And with excellent service comes stronger financial performance. This is the Culture Value Chain, and it's the foundation of everything we deliver, including proof of our ability to replicate and sustain a client's brand promise in an outsourced model.
Learn more about the Culture Value Chain – video.
An unparalleled corporate culture
Corporate culture is our competitive advantage, and it shows in our high employee engagement scores (83% according to Aon Hewitt) and low attrition rates (up to 50% below industry average in every geography where we operate).
Engaged team members
An engaged employee is an inspired employee, so we work hard to surround our team members with the things that matter to them. From extended health care benefits and onsite university programs to leadership development and community giving, we invest in our team members and their communities so they, in turn, invest in us.
The right size to support your operations
We are agile and approachable by design. All of our client programs receive executive priority and ongoing senior management attention. Our open door policy means that all executives, right up to our President, are available to customers when needed.
The financial strength to invest and enable innovation
Backed by our Canadian telecom parent, TELUS (market cap $25 billion), we have the financial strength to invest in the latest facilities, operations and technology assets.
Process intelligence built into every interaction
We take a "walk the floor" Lean Six Sigma approach where process intelligence is built into every client account. Almost 70% of our operational team leaders are Six Sigma trained, focused on customer transformation and execution excellence.
TELUS INTERNATIONAL EUROPE
Son 1 Hafta
TELUS INTERNATIONAL EUROPE
Son 1 Hafta

Firmanın Tüm İlanlarını Listeledik
Daha Fazlası İçin : Ana menüdeki "İş Bulma Sihirbazını" kullanabilirsin.